Dental implants
are one of the most durable and efficient options for replacing missing teeth. These individually-designed ceramic teeth are anchored into the jaw with titanium structures that mimic the tooth's root. Single implants are used to replace individual teeth or multiple dental implants can form a bridge for larger gaps.
If the patient lacks teeth but there is enough bone in the jaw to support implants, we can create implant-supported dentures that are either fixed or removable, depending on individual preferences. If you need dental implants, our Gosford professionals can help.
​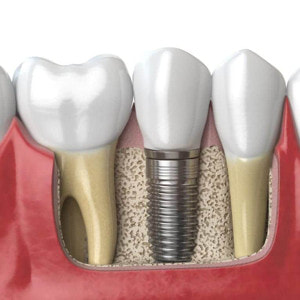 Our Procedure for Dental ImplantsThe process of getting a tooth implant requires time and patience because it takes a few appointments to complete. First, your dentist will remove the damaged tooth. If your jaw requires additional support, a bone graft may be necessary. The metal dental implant is screwed into the bone and left to heal, becoming a permanent part of your mouth.
After you have fully healed, your dentist will attach an abutment to the metal structure and allow the soft tissue to heal. Finally, your artificial tooth will be placed on top of the abutment. This process can take several months and multiple appointments due to the healing time, but you will be left with a strong and realistic.
Advantages of Dental Implants
Dental implants
can restore the function, appearance and form of your teeth. Other benefits include:
Greater bite force than dentures
Restoring the mouth to its natural state
Preserved facial structures prevent bone resorption
Improved appearance and smile
No damage to adjacent teeth
Easy to clean
Improved confidence and self-esteem
Things to Keep in MindImplants are unsuitable in some cases, including:
Smokers – cigarettes interfere with the healing process and may cause the implant to fail
Pregnancy
Certain medical conditions, such as bone diseases and uncontrolled diabetes
People under the age of 21
Some medications aren't compatible with dental implants
Cost of Dental ImplantsDental implants are getting more popular. However, the general conception is that they are a very expensive option.
We have to agree, they are not cheap. Niagara Park Dental always looks for ways to make treatment options more affordable.
Our single tooth implant price starts from $3,500 and you can transform your denture into an implant-retained denture for only $5,300
Benefits of All-on-4 Dental Implants
All-on-4 dental implants provide a way for you to enjoy the benefits of a full set of new teeth with just four implants. Tooth loss is extremely common as people age, and now, there's an easy and natural-looking solution. Here are some of the advantages of All-on-4 dental implants.
An improved appearance

. All-on-4 dental implants can take years off your smile. That's because this procedure preserves the jawbone and helps prevent future facial structure deterioration associated with missing teeth.

The ability to eat whatever you want, whenever you want

. All-on-4 gives you the freedom to eat anything you want. Enjoy your favourite foods wherever you are, even in public, with no worries.

Enhance your overall health

. Periodontal disease is associated with a range of health problems, including heart attack, stroke, diabetes, and others. Dental implants restore your mouth to a healthier state, helping prevent problems.
Niagara Park Dental

3 / 16 Washington Avenue

Niagara Park, NSW 2250

​reception@niagaraparkdental.com.au

Phone: (02) 4329 3003

HOURS
Mon 9:00 - 5:30
Tue 9:00 - 5:30
Wed 9:00 - 5:30
Thu 9:00 - 5:30
​Fri 9:00 - 5:30