Dental veneers are a thin shell of porcelain or other durable, restorative, white material used to cover the outer surface of the teeth. Veneers are typically used on the front teeth to restore their appearance.
Dental veneers are used to rectify:
Large decays on the front surface of the teeth
Gaps between teeth
Chipped teeth
Discolouration where whitening is not enough
Fillings that have changed colour
Uneven or misaligned teeth
Worn down teeth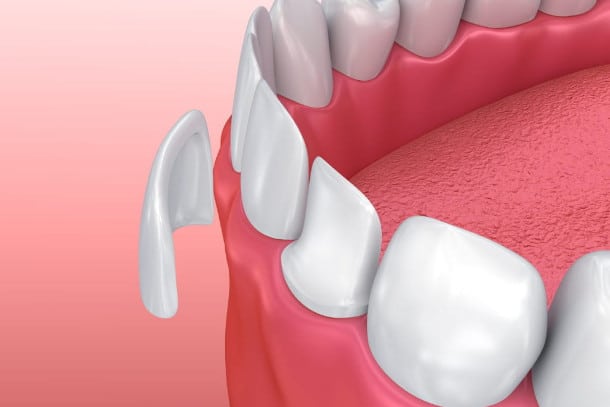 The Different Types of Dental Veneers Available
​In just a few appointments, our Niagara Park dental team can have your teeth looking their best. Whether you need to fix issues with functionality or merely improve the appearance of your teeth, we can help. We excel in
porcelain veneers
and
composite veneers in Gosford
on the Central Coast.

Porcelain Veneers
Porcelain is an extremely durable, thin and life-like material that is resistant to stains. They are manufactured out of the office and take a few appointments to complete.

Composite Veneers
Composite resin is less expensive than porcelain and only requires one visit to apply. It is cheaper and easier to repair cracks and chips in composite resin; however, they are slightly lower quality than porcelain.

The Teeth Veneer Procedure
The first step is explaining your current issues and goals with your dentist in an initial appointment in which we may take x-rays to examine the condition of your teeth. Your dentist will make impressions of your teeth which are sent to a laboratory where your dental veneers are fabricated.
If your teeth need to be covered in the waiting period, your dentist may place temporary veneers on them. Once your
porcelain veneers
have been created, your dentist will ensure the fit and colour are perfect. Your tooth is prepared bydoing a
Clean
, polishing and etching to allow for a stronger bond. A bond is applied and hardened by ultraviolet light and all excess cement will be removed.

The Advantages of Veneers
Veneers are an effective and efficient way to correct issues with the appearance and functionality of your teeth. They are stain-resistant and durable, taking only a few appointments to complete.
Niagara Park Dental

3 / 16 Washington Avenue

Niagara Park, NSW 2250

​reception@niagaraparkdental.com.au

Phone: (02) 4329 3003

HOURS
Mon 9:00 - 5:30
Tue 9:00 - 5:30
Wed 9:00 - 5:30
Thu 9:00 - 5:30
​Fri 9:00 - 5:30